Welcome and thank you for being here! I'm Josh!
I want my couples to have the time of their lives every moment of their wedding day. This day really is all about you.
Have the time of your life, be yourself, and enjoy every moment!
That's the best wedding advice I would give a couple. I know that the reality is...:
The day will all be over in a blink of an eye.
It feels like that for me as the photographer so I can only imagine what it must feel like for the bride and groom. But have no worries because I'll capture it all, seamlessly in away that is elegant and timeless. Good photography can make one feel real joy over and over again, for many lifetimes. Joy is Joy and when you see it in an image, you know it. I hope that why you are here. I hope you saw something in my images that felt different, real, honest, or maybe soulful. I prefer to photograph in the moment and not at the moment. I'm there, in the thick of it as if it was from the perspective of your best friend. Like all things in life it is a dance.
Enjoy the process of this journey and thank you for your interest in my work. I hope my images make somewhere in your heart sing. If they do then we should chat. I would love to hear more about your plans.
- Josh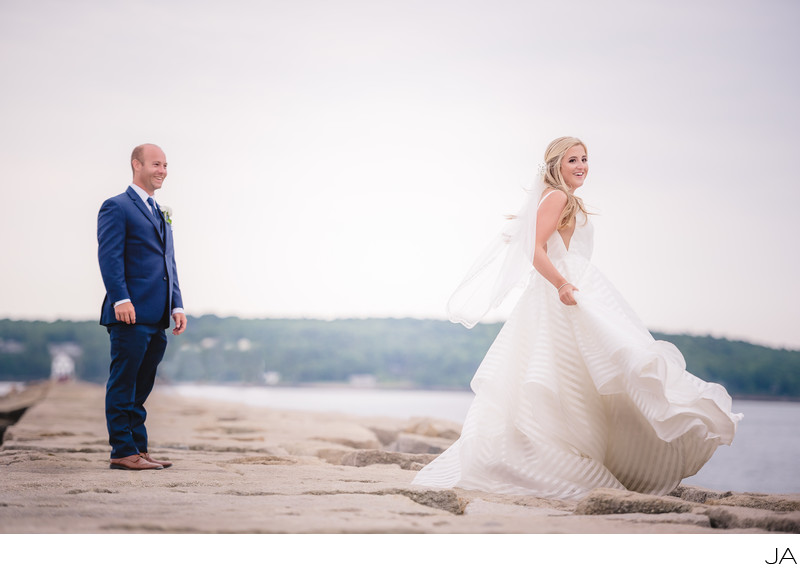 About Me
Okay, it's only fair. If your even going to consider me to be present on one of the most grand and memorable days of your life then you must know a tad bit more about me. So here goes..
My first photography class was at Uconn. Photography 101, I was a graphics design major. The year was 1994 and we used black and white slide film that we developed ourselves. It was awesome.
I photographed my first wedding in 2006. It was for my good friend's sister and I am sure I was more nervous than the bride that day. It was an awesome event and everyone loved the photos. That felt amazing.
I have been married now for over 10 years. My son was at my wedding too! Our story is a weird one for sure. I met my lovely wife in Corfu Greece. I was backpacking though Italy trying to make it over to the dance clubs in Ios and heard that there was this place called The Pink Palace in the island of Corfu that was a must stop. So left Italy and took the boat to Corfu and met a coupe brits called Moe and xxx on the way over. That night we went out to the club and had a blast. I remember plates being cracked over heads (we were in Greece), and togas. There I met my wife, Gemma. If you want to hear the rest then we need to be friends first. Any hoo.. we had a long distance relationship. I was a travel nurse and she came to San Francisco to see me. Then in New York, she came there too. Then we eventually moved to London, had a little boy and then got married. All three of us (and our Amercian cat) had our honey moon in Cornwall. It was great. Then in 2011 we moved to Maine where we found our home. If your still reading this... here's some advice. Travel, have no agenda, wonder though cities, meet the real people who live there. This is life.
I am a registered nurse and work at Maine Medical Center. Yup, I'm an oncology nurse and have been for over 2 decades. It's been an enjoyable profession that has taken be around the world. I've meet some real characters over the years. But really one of the most important parts about being a nurse is you see, on a daily basis, the "not so rosy" parts of life. As Alan Watts would say, for without white you would not know what black even is. In other words, you can't see the highs without seeing the lows; the beauty is in the contrast. Nurses, especially the ones who say a nurses forever, are always pretty interesting and amazing people.
Yoga, in a very eastern sense of the term, is also something I do. Yoga is not a religion or an exercise or stretching but instead it's just a way of being. Yoga means union; it's the union of you and everything in the cosmos. Sounds kind of wild right? Well, I'll tell you this, if your at all open to the concept then give it a go. It's changed my world.
My home is in Cape Elizabeth, Maine and we love it here. Maine is wonderful on so many levels. The people, culture, sea, woods, lakes, wildlife, seasons... there is just so much. It is our home and always will be. Here's some photos of my family.


Three words to describe your style?
True, soulful, joy
Do you offer high resolution files?
Yes, on these things and online anytime.

Do you have a second shooter?
Yup, I still need to ask her first though so let met me know asap. She is amazing. Honestly though... I prefer to photograph a wedding completely solo.
Can you hold my date while we decide?
Unfortunately, no. My dates book up on a first come first serve basis and your date will be reserved only once the retainer is paid. Your retainer secures your date and your can then choose your photography package anytime prior to the wedding.
Are you insured?
Yes, I carry general liability insurance as well as equipment insurance. If your venue needs a certificate I would be happy to have one generated.
Can we meet with you?
That would be a very enthusiastic "Yes!". I always enjoy meeting new couples and hearing your stories and big plans to come. Hiring a wedding photographer is a big decision and they will likely be the one vendor that is with you for the entire day. I find the best way to show a prospective client who I am and the work I do is to have a chat (often over coffee) and follow up with an engagement session. These are always a blast and a perfect way to see how I work, my personality, and see the images I produce. It's also the perfect time to get acquainted and become more comfortable in front of a big camera. Of course, all the edited images from the engagement session are delivered for wedding invites, save-the-date's or gorgeous prints.
How long until I am able to see my images?
I totally understand this one. You want your images when you and all of your family and friends can still feel the excitement of the day. If you like my page on Facebook I will have a couple sneak peek images posted the morning after your wedding day. From there I aim to have an online sideshow for viewing within 4 weeks and your proofing gallery soon after.
Okay, so we have met and we would like to book the date, how do we proceed?
Yay!!! I'll send you a contract and order form. Once it's completed and signed with your retainer ($1000) your date is booked! That's it!
How many weddings do you do per year and do you ever do two on one weekend?
I typically photograph 12-15 weddings per year with my peak season is from June to October. I am available for booking all year long and love winter weddings in Maine just as much as the summer weddings. I strictly book one wedding per weekend so I can focus completely on that event.
I'm just interested, what does your wedding kit look like? light, simple, sophisticated, fast
The wedding kit has changed again as of 2021. No more 70-200. Just a 35mm 1.8, 50mm 1.2 and 1.8, 85mm 1.8. and maybe, just maybe the 14-30 4. All Nikon S lenses. Finally found a camera I love to use.
Here's my base kit from 2020.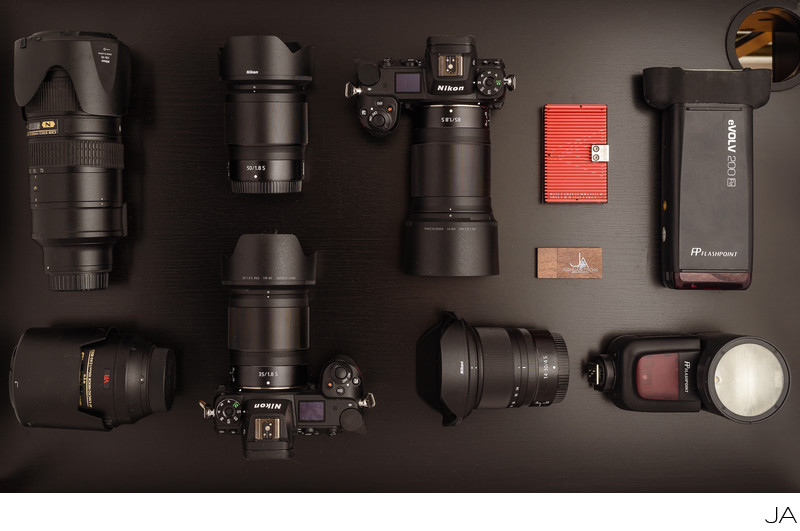 My Base Kit
Joshua Atticks | Maine Wedding Photography