Frequently Asked Questions
creating images that matter.
I photograph connections and I can feel them. I see shapes and lines and find organization in chaos that translates into beauty. My skill in photography developed from a decade of relentless practice and my style comes from somewhere within. I seem to feel an energy in some odd way and tap into it on wedding days. When I am behind the lens I am fully present and aware. It is a meditation.
This is my mission statement.
To create authentic works with images that reflect the uniqueness of the people I am photographing, highlighting who they are and the relationships between them. Every person, every relationship, and every family is different, each having little quirks and features that make them perfect in their own way. This is what makes me fall in love with an image; the small details, the idiosyncrasies, and the nuances that makes us different and unique. It's these moments that really show who you are and the story of your day. I would rather photograph expressions that are a true reflection of my subjects than images with perfect posing and perfect lighting. Often though, I'm lucky enough to get both.
Your wedding photographer will be the only vendor who will be with you the entire day so they better be fun, have some adventure and be silky smooth. The best photos come out when the barriers are down and your true self can shine through. That's the real skill, the settings and pressing the button is the other 10%. So to get us acquainted here are some bits about who I am.
I was born and raised in Connecticut, we vacationed in Maine almost every year.
I love coffee and somehow convinced my wife to let me keep a huge commercial espresso machine in my kitchen. We are a family of baristas! Black Americano is still my drink.
I've always driven a German hatchback. I like small, quick, sophisticated things.
I met my wife on the Greek Island of Corfu, moved London and married her.
We've been married over 10 years now, she is a true gift to my soul.
Out of all the places in the world could could settle and live, we chose Maine.
I cured 20 years of chronic back pain by simply listening to my body. I feel it now. Really.
Yoga changed my life, I practice every day.
I am a registered and certified oncology nurse at Maine Medical Center. I love that job too.
I love building and creating things.
I have two great kids, two dogs, three cats, and an ever changing number of chickens.
Breakfast is my favorite meal and have 2 eggs over easy every morning. My daughter is the same and that makes me smile.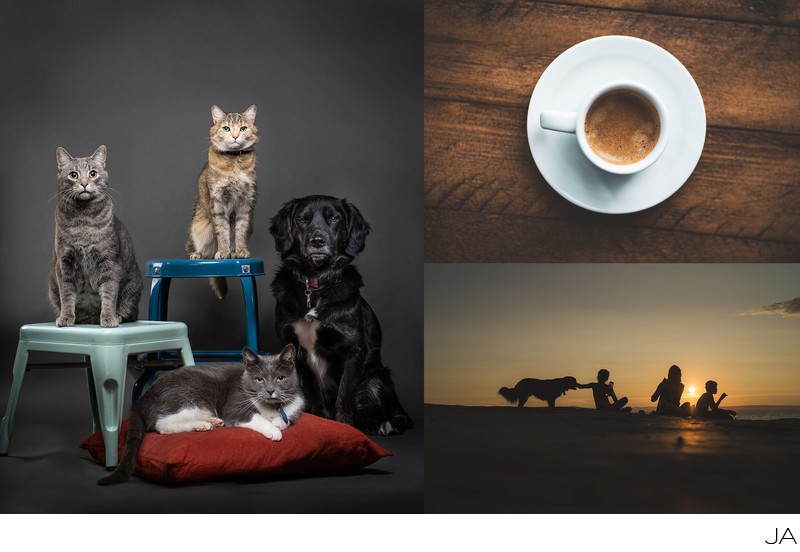 Ask 10 photographers to capture a moment or scene and you will get 10 very different pictures. Photography is subjective, there is no wrong or right, good or bad. The lens, medium (film, digital, senor size), vantage point, focal length, focus selected, aperture, shutter and then finally the moment when the shutter clicks. These setting are consciously and often instinctively set by the photographer which therefore translates into a style. Style can be taught or copied but ideally a photographers style comes from within. It's what makes them tick.
I have leaned to see love and relationships in people and capture it. You can't learn it, it just comes together with time and then one day a you learn to capture with your heart. It's about feeling empathy, and being in the moment. The fingers turn the dials automatically and then: click.
Photography is something I value over most anything material. I think this drive and passion comes from the fact that my mother missed my own wedding and the birth of my children. She died of lung cancer when I was 21 and I have 3 images of her and the rest are memories in my mind. This event has given me a true appreciation for the value of photography and not just the pretty pictures but the ones that matter the most.I want to be there in the images. I want to feel the images like they can grab me in and take me away.
How did you start out in photography?
In college, photo 101 at Uconn my freshmen year. My aunt let me use her old slr and a 50mm. I got my basics there but it wasn't until I started traveling trough Europe in my 20's when I felt the need to capture moments. I think I was going trough a phase where time was starting to become or feel fleeting. This then turned into landscape/cityscape photography in my late 20 and early 30's. My work is all over the travel sites and you have likely seen some of it if you've been to London, Italy and Maine too. Then I had my son and I felt the urge to document every moment of it for about 5 years. I've calmed down now, finally now that he's 12. In my 30's to early 40's I was all about making creative images, sometimes with flashes, sometimes with objects held close the the lens, or some other trend I saw on youtube. Now I just let the photos happen and be so in the moment that I am part of the moment. My images have feeling.
How would you describe your style?
Authentic.
For me it's all about capturing moments of true expression. I get up close, I choose different angles, I get dirty and try new ideas. I find great light and will guide my clients there and let the rest unfold naturally. I do everything I can to make my clients comfortable and forget that I have a camera. I can be a goofball too and sometimes I'll throw out a bit of dry humor or a really bad joke to get things giggly. My photography is becoming more of a reflection of who I am and how I see and interpret things rather then the latest trendy poses with a Lightroom preset on top. Sometimes my favorite images is the blurry one. A true expression is like a window into someone's soul.
Do you offer high resolution files?
Yes, all wedding packages come with edited, high resolution jpgs with a printing license to use as you wish. The images are available anytime digitally from an online proofing gallery where family and friends can also enjoy and download the images. Clients are also given a physical copy of the images as a custom USB drive. Beautiful prints, slideshows, canvas gallery wraps and stunning custom wedding albums are available for purchase anytime. Here are my sweet USB drives custom made by USB Memory Direct.

So Josh, Why should we choose you?
don't, unless your fun and cool. and below is what I wrote a couple years back:
When choosing a photographer you're not just hiring a technician controlling a camera but investing in a person's vision and life experience which ultimately translates into style. I believe that photographs come from within and every photographer will interpret a moment differently. If my work speaks to you somewhere within than I'm your guy.
Being a photographer is also about being able to connect with people. It's about making people feel good, at ease and beautiful all at the same time. This is my draw to photography and why I am passionate about creating images. I understand that true to life emotion trumps all else when photographing people.
Do you have a second shooter?
no, second shooters often have a different vision then my own. It's not something I can fix in the editing either.
Can you hold my date while we decide?
Unfortunately, no. My dates book up on a first come first serve basis and your date will be reserved only once the retainer is paid. Your retainer secures your date and your can then choose your photography package anytime prior to the wedding.
How did you learn your craft?
Time. Life. Reflection.
Are you insured?
Yes, I carry general liability insurance as well as equipment insurance. If your venue needs a certificate I would be happy to have one generated.
Can we meet with you?
That would be a very enthusiastic "Yes!". I always enjoy meeting new couples and hearing your stories and big plans to come. Hiring a wedding photographer is a big decision and they will likely be the one vendor that is with you for the entire day. I find the best way to show a prospective client who I am and the work I do is to have a chat (often over coffee) and follow up with an engagement session. These are always a blast and a perfect way to see how I work, my personality, and see the images I produce. It's also the perfect time to get acquainted and become more comfortable in front of a big camera. Of course, all the edited images from the engagement session are delivered for wedding invites, save-the-date's or gorgeous prints.
How long until I am able to see my images?
I totally understand this one. You want your images when you and all of your family and friends can still feel the excitement of the day. If you like my page on Facebook I will have a couple sneak peek images posted the morning after your wedding day. From there I aim to have an online sideshow for viewing within 4 weeks and your proofing gallery soon after.
Okay, so we have met and we would like to book the date, how do we proceed?
Yay!!! I will email you a wedding contract. Once this is signed and returned with your retainer ($600) your date is booked. You will then receive my welcome package in the mail containing loads of useful information and tips to help you as you create your perfect day.
How many weddings do you do per year and do you ever do two on one weekend?
I typically photograph 12-15 weddings per year with my peak season is from June to October. I am available for booking all year long and love winter weddings in Maine just as much as the summer weddings. I strictly book one wedding per weekend so I can focus completely on that event.
I'm just interested, what does your wedding kit look like? light, simple, sophisticated, fast

My wedding kit has made some big changes for 2020. Nikon has finally developed a mirrorless system, and I was all in from the start. My main cameras is a Nikon Z6 and Z7 with a D750 as backup. I still use my D750 but mainly just for ceremony coverage with the 70-200 on it. I'm a prime shooter and shoot with a 50/35mm on one camera and an 85mm on my other. The super wide or 14-30mm comes out for dance floor coverage or for an epic environmental shot. The macro is for rings and super closeups only. Here's my base kit for 2020.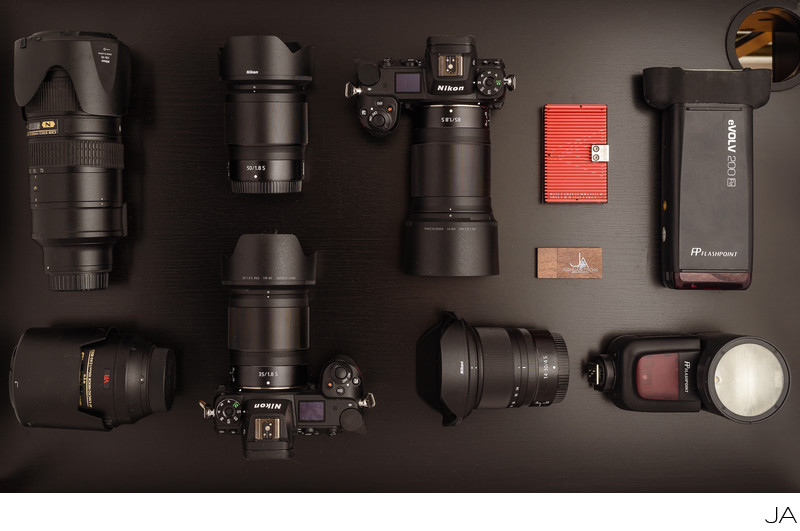 My Base Kit
Joshua Atticks | Maine Wedding Photography