Maine Elopement Photographer
---
From stunning lakes and mountains to the rocky coast and everything in between, it's no wonder that so many couples choose Maine as their wedding destination. Whether you are eloping or having a smaller more intimate ceremony I have created a photography package suited for the shorter celebration. My Elopement Package covers 2 hours of photography, travel up to one hour from Portland, location planning, online gallery and full resolution edited images with printing license. The coverage is suitable for elopements or intimate weddings up to 15 people and is perfect for covering wedding prep (venue dependent), ceremony, family photos and location portraits. Additional time can also be added if needed. Contact me for more information.
Ten Perfect elopement Locations around Portland Maine.
Maine is a destination for most of my clients and In a state that is 320 miles long and with almost 3500 miles of coastline, finding the perfect location can be the hardest part! As a local Maine wedding photographer I can help guide you in the right direction and have created the following list of some great locations in and around Portland, Maine to give you some ideas.
Fort Williams is just 15 minutes for the Old Port and has multiple locations available all with amazing views of Maine's rocky coast and Portland Headlight. The park is breathtakingly gorgeous and offers lots of variety for photography after the ceremony with trails, old forts, and Portland Headlight.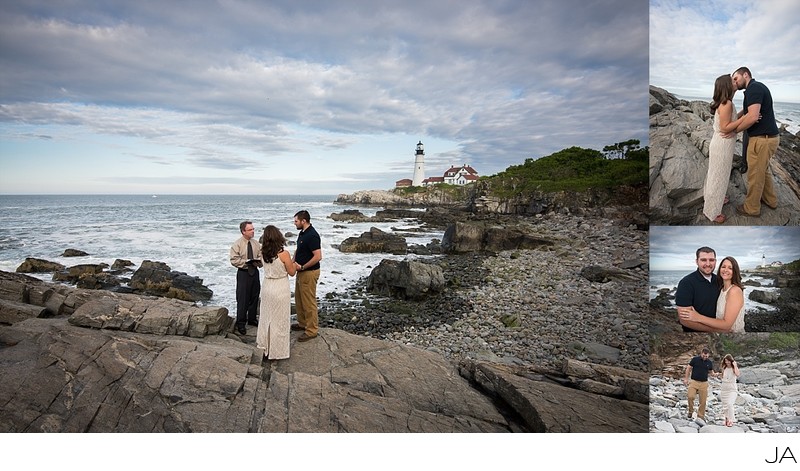 Fort Williams Park - Cape Elizabeth, Maine


This upscale inn in Cape Elizabeth is meticulously manicured and always gorgeous. Get married on the lawn overlooking the ocean or walk down over the boardwalk to Crescent Beach. This inn loves dogs and the view is absolutely perfect at sunset.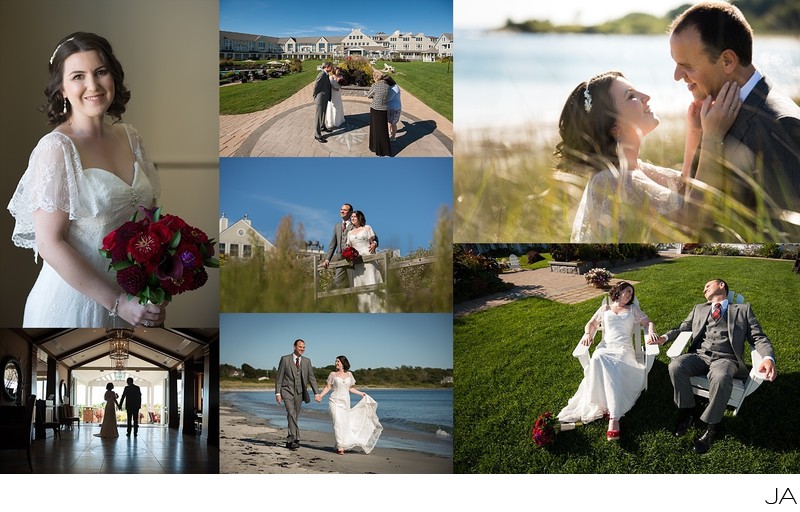 The Inn by the Sea
This is one of the few covered bridges left in the state and is open for wedding ceremonies. It's close to Sunday River.


Maine is lucky to have the only national park in New England. Acadia is just a three hour drive from Portland and showcases some of the most dramatic coast and mountain top views anywhere. Hike up Cadillac Mountain for a sunrise ceremony or maybe sunset on Jordan Lake. Truth is, anywhere in Acadia National Park is a perfect place to elope. The bustling town of Bar Harbor is close by for great food, lodging, and shopping. Acadia NP requires a permit ($50) for wedding ceremonies. For more information see their site here.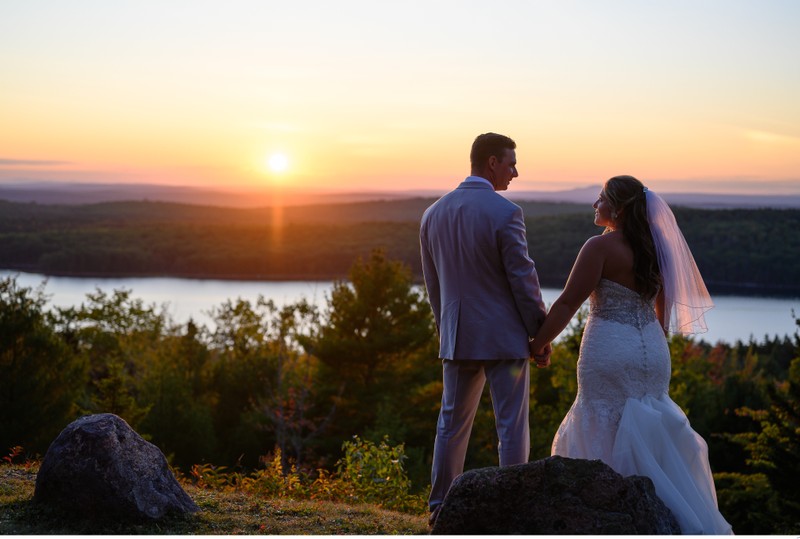 Acadia National Park
Book a Schooner or Sailboat - Casco Bay
How about a sunset cruise in Casco Bay for a mobile ceremony location! You can book Frances from Maine Sailing Adventures.
Kettle Cove- Cape Elizabeth
Located in Cape Elizabeth and nestled between Crescent Beach State Park and Two Lights State Park is this little gem has a small beach and grassy peninsula that spans outward overlooking the ocean.
Located in South Portland this location is perfect for an early morning elopement.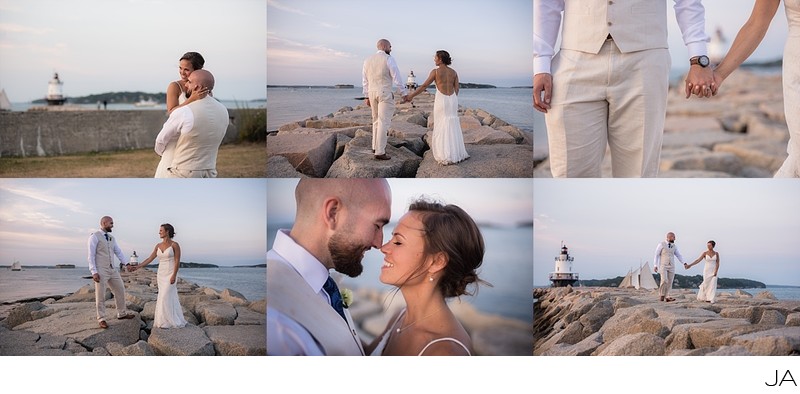 Spring Point Light
Just off the Kennebec River is this quaint old lighthouse. There are few visitors to this lighthouse offing privacy to your ceremony.
This resort brings mountain and sea together with one of the most spectacular views of Penobscot bay. A sunset elopement here would be absolutely stunning.
Bug Light is in just across the Casco Bay bridge in South Portland. The park offers wonderful views of Portland, the harbor and an impressive lighthouse.

Peaks Island - Portland
Take the ferry from Portland for a day out on Peaks Island, and then get married while your at it. There are great views of Portland and Casco Bay all around and great places to eat and stay for the evening.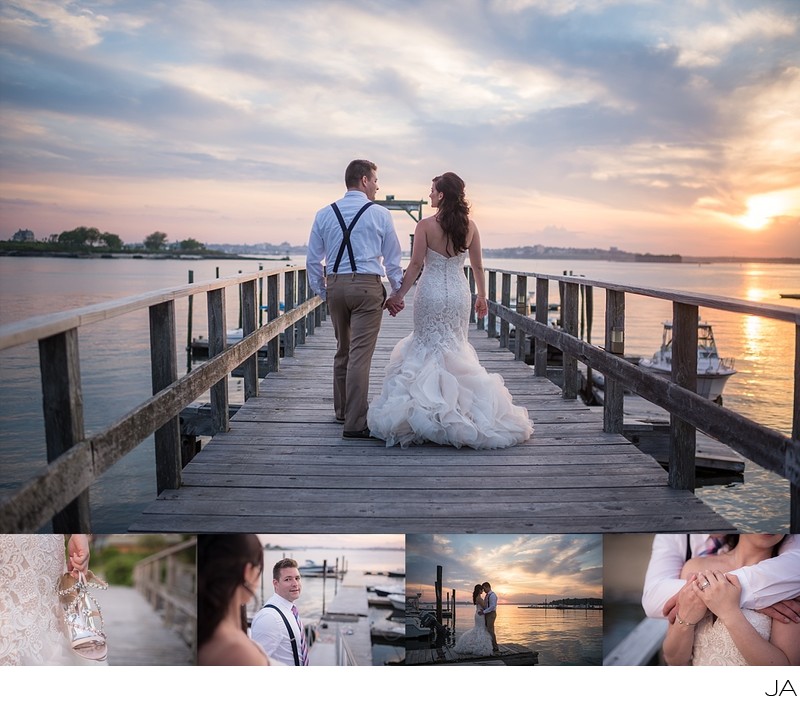 This state park offers some impressive views especially in the fall. The summit is just a short (0.2 mile) hike and there is plenty of lodging around the area. L.L. Bean is also close by and dogs are certainly welcome.
Joshua Atticks | Maine Wedding Photography