Photographers Resources
The Photography Gear by Nikon
I've been a Nikon shooter for most of my careers as a professional photographer. My first digital camera was the D70 in 2004 and progressed to the D200, D300, D700, and then the D750's. In 2018 Nikon released their full frame mirrorless camera system and I was full in at the get go. I had blip in early 2018 where I dabbled with a Sony A7III, and while I loved the auto-focus system and speed of the system, the ergonomics and menus made the camera less of a joy to use. One D750 still comes with me to every wedding with the 70-200 mounted on it and as a, just in case, back up camera but otherwise I use the Z's for most a wedding day. As you can see from the image below, I am primarily a prime shooter and mix it up between a 35, 50 and 85mm. Here's my base kit for 2020.


My USB drives are from a company called USB Memory Direct. They are an great company that can produces just about any drive you can possibly imagine. The process of the selecting, designing and producing the perfect drive simple and easy as their staff walk you through the process and show you exactly what your design will look like prior to production. My drives look so good they got their own photo session. Here they are: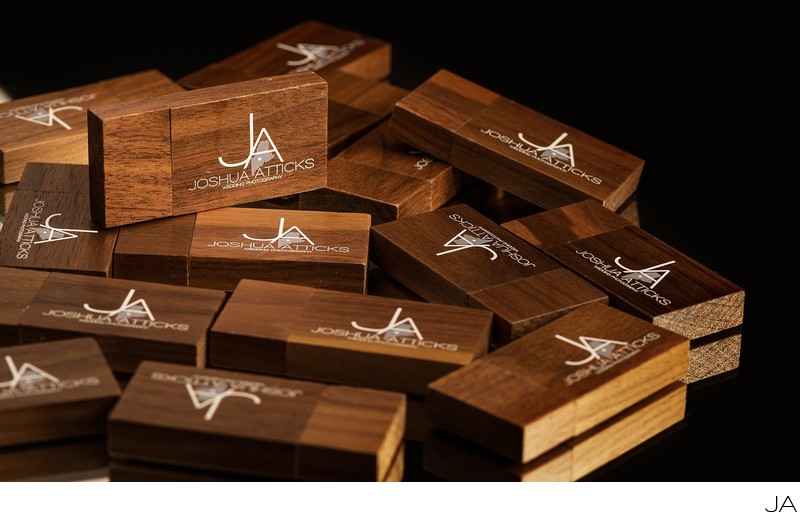 USB Drives from USB Memory Direct
I love the clean, minimalist style of Design Aglow's paper goods and products. The quality is absolutely top notch, the embossing is gorgeous and selection is vast. I've yet to come across another custom paper supply company that even comes close to the quality and style of this company. Their paper goods are expensive but I'm more than willing to pay the price for an outstanding product. Here are my custom embossed USB boxes: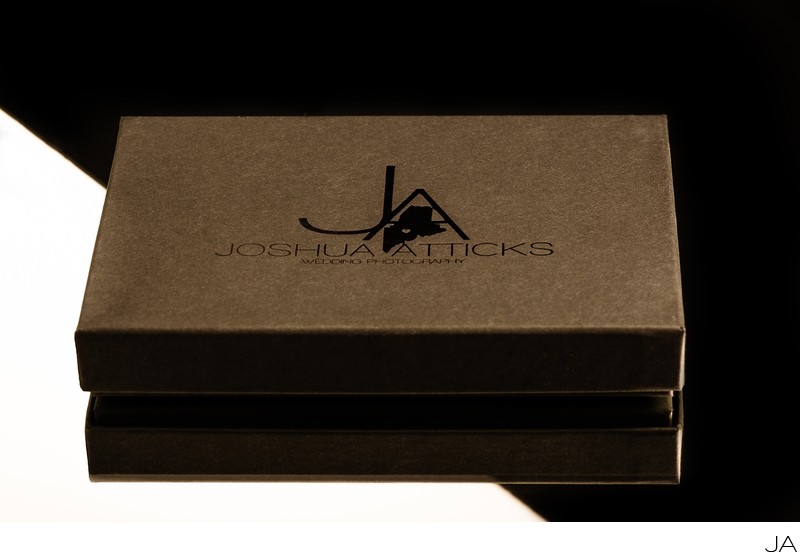 Custom USB Box by Design Aglow
Graphistudio is the top tier album and print company for the wedding industry. I've chosen their Young book as my album of choice for clients looking for something chic with modern minimalist styling. The books are made in Italy, shipped to America and when you first open the box you then realize why this company is so awesome. The attention to detail, the quality of the materials and expert craftsmanship in the creation of each album is simply top notch. The design options, material choices and colors available is industry leading. Here is the Young Book in action with the Acrylic Crystal Glazed cover.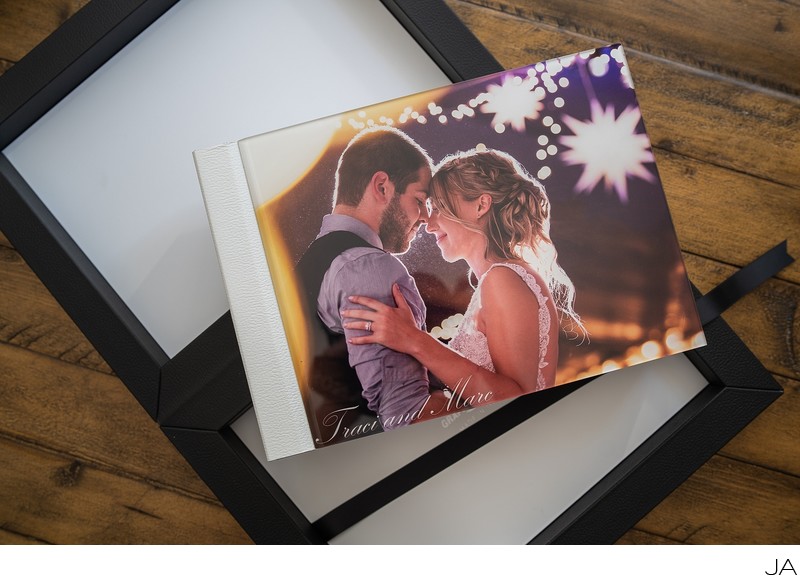 Wedding Album by Graphistudio
Madera Books is my first choice any client looking for a traditional leather or silk covered album. These albums are substantial, expertly made and packed with the most premium materials available. The pages are made by mounting photographic paper to a thick substrate creating a clean, ultra crisp edge around the page with a almost invisible gutter where the crease is. These albums are made to be held, felt and be completely immersed in with the photography inside. Here is the Leather Book by Madera.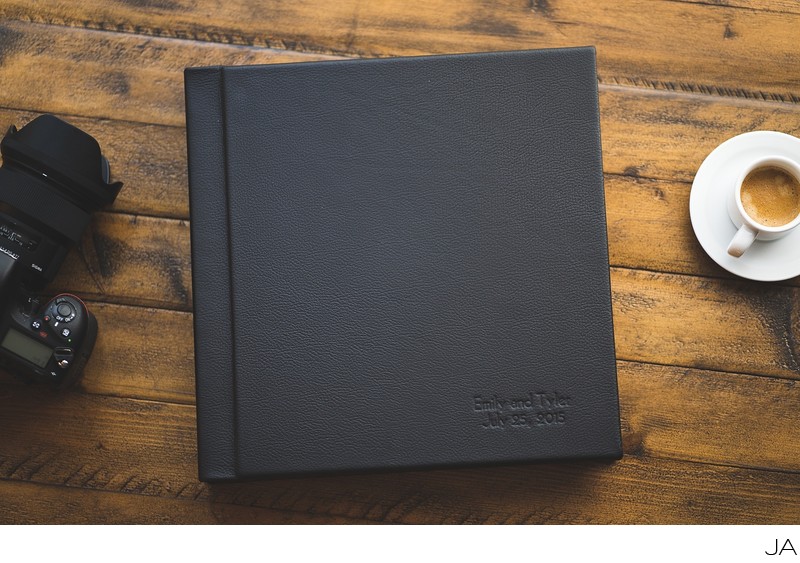 Leather Wedding Album by Madera Books
By friends Jerry Ghionis, Susan Stripling, Cliff and Roberto sent me to Goodgallery. It's what you get when an amazing photographer and an amazing engineer combine and set their mind to make the perfect photography website for professional photographers. Rob Greer is one amazing photographer and programer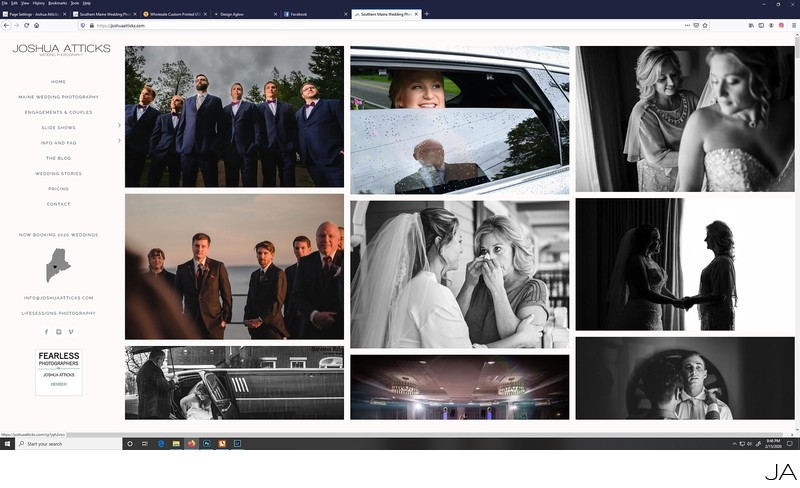 Joshua Atticks Wedding Photography
Lightroom Presets
Ha, well I tried them all. Mastin, VSCO, Pretty Presets, Rebecca Lilly, etc. and I never fell in love with any of them. I think I prefer images that look like reality, real colors, etc. I do like a bit of a matte look and will pull up the black in the curve but that's about it. Sometimes though, I'll click on a preset and it will be absolute magic and the colors just come alive in a flavor that you can almost taste and smell. So I do use some presets but it's pretty sparingly. Instead I've developed my own, it's just a couple looks that work well and with no real tweaking of the HSL. I'll see if I can figure out how to get a link in here for ya.
Computing
Velocity Micro. You need a solid machine built for professional use? Go to these guys. Their workstations are built from the ground up starting with a solid aluminum box and top notch power supply. From there you can customize it to your perfect spec.
Joshua Atticks | Maine Wedding Photography