Great Locations for your Engagement Session in and around Portland, Maine
---
Maine, the perfect backdrop for photography
Relaxed yet chic and naturally beautiful; Maine provides the perfect backdrop whether you're popping the big questions or looking for the idyllic location for engagement photography. Maine's largest city, Portland makes the perfect base for exploring this wonderful state. Located about 2 hours north from Boston, Portland is a working harbor in Casco Bay and offers many world class restaurants, unique shops, a busy working waterfront and an amazing beer culture all within a trendy and hip atmosphere. For my clients coming from both near and far I have created this list of my top 10 favorite locations (in no particular order) around Portland Maine for engagement and couple photo sessions.
Here are my top 10 locations around Portland Maine for couples photography.
1. Portland's Old Port
The Old Port offers loads of options from old red brick buildings to cobblestone roads, fishing wharves and industrial buildings. There are also plenty of interesting building facades, alleyways and lights that can be used and incorporated into the images. The photo session can also be themed or planned around a date. Check out Bayside Bowl's amazing new building and rooftop terrace or start with coffee at one of the local coffee shops.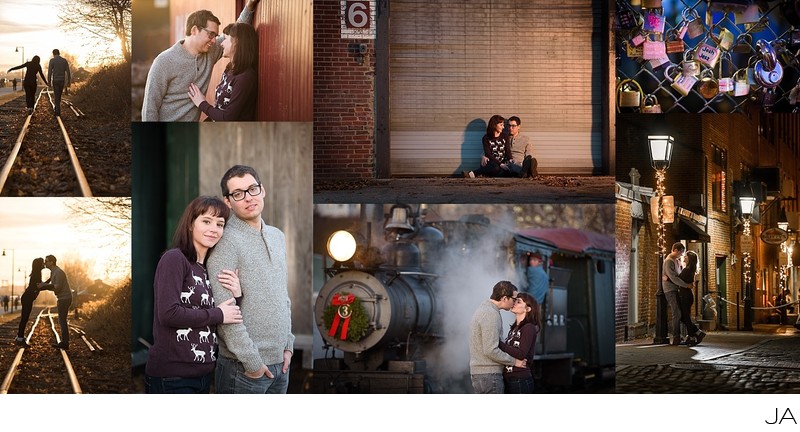 Rain or shine, the Old Port still looks amazing!

2. Fort Williams Park, Cape Elizabeth
This is one of my favorite locations and the place I recommend the most. Fort Williams is the home of the famous Portland Headlight and offers stunning views of Casco Bay and Maine's rugged coastline. It is located in Cape Elizabeth and is about 10-15 minutes from Portland's Old Port. The park offers loads of variety from the tree lined promenades, a small beach, trails, rocky cliffs, old forts from WWII and an amazing lighthouse (Portland Headlight). Dogs are welcome and parking is easy. Book your dinner at Otto's Pizza or Elsmere BBQ after your photo session.

After a day exploring Portland, shopping and sampling the local beer and food, Fort Williams park makes a great cap to the day with... the proposal!!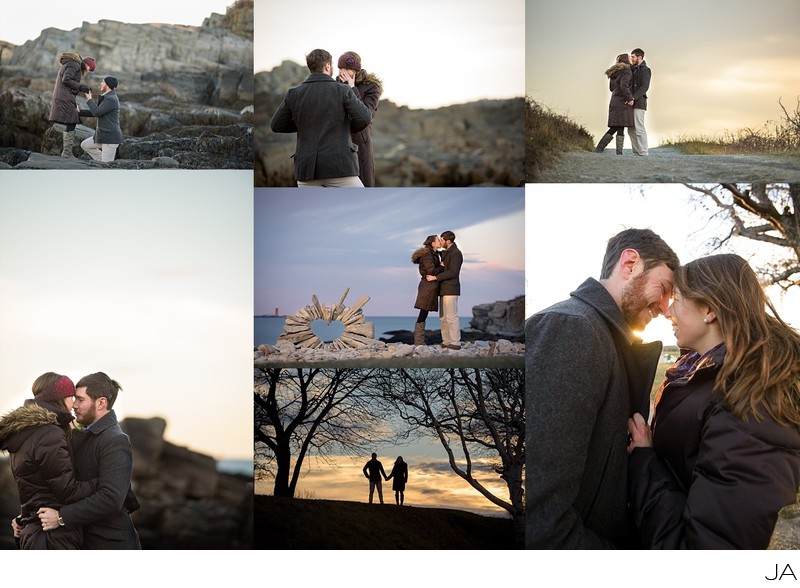 3. Maine Audubon in Falmouth
Located off Rt. 1 in Falmouth and just minutes from Portland the Maine Audubon offers views of the Presumpscot River estuary, a small forest, salt marsh, meadows full of tall grass and an old barn. There is ample parking and the sun sets in the perfect location for couples photography.

4. Ferry Beach, Scarborough
One of the few beaches where you can watch the sun set from across the water. Ferry Beach is on an inlet off Casco Bay and has no waves and a dramatic high and low tide. There is a golf course just next to the beach, a dock and boat launch and some trails. The location is perfect and a favorite for a sunset photo session. Dogs are welcome too!

5. Spring Point Ledge Lighthouse, South Portland
Looking for something more dramatic well look no further than Spring Point Light. This stunning lighthouse is at the end of the break water overlooking Portland, Casco Bay and the islands. Mornings and evenings are the times to be here for the dramatic skies and gorgeous golden light. Spring Point Light is located off the camps of Southern Maine Community College in South Portland.

6. Kettle Cove, Cape Elizabeth
This beach is a little nook, semi protected by rocks and land and makes a perfect spot for engagement photos. There are great walking trails and a boardwalk in the woods adjacent to the beach. I love the footbridge and the grassy bit between beaches where locals picnic and watch the sunset. Parking is close and easy.
7. Two Lights State Park, Cape Elizabeth
There is a small fee for admission but it's worth it for the great ocean views and walking trails. The park stands high above the Atlantic coast and is full of walking trails, old WWII forts and stunning views of Maine's rocky coast.

8. Higgins Beach, Scarborough
Higgins is hands down my favorite beach. Higgins is nestled in a lovely little beach town and has the best surf and a gorgeous flat beach. If you or your partner is a surfer, this is the place for your photos (bring your board as a prop). Dogs are welcome in the early mornings or late evenings.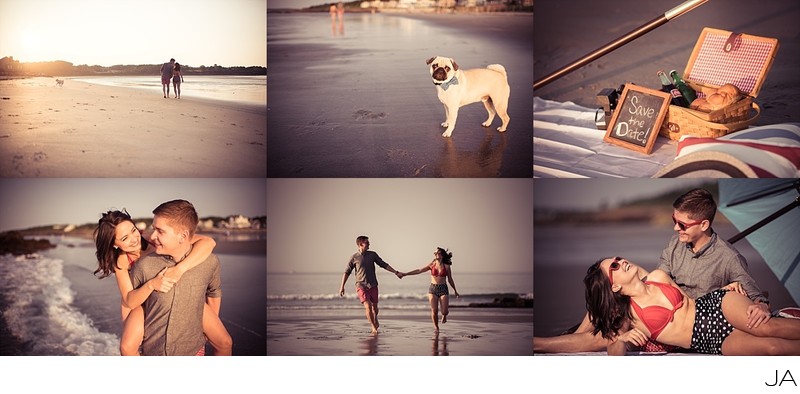 9. Mackworth Island, Falmouth
Mackworth Island is about 10 minutes from Portland and accessible from a quarter mile causeway off rt. 1 in Falmouth. There is one road in and a parking lot while the rest of the island is free to roam with walking trails around the parameter. The photographic possibilities are everywhere with wonderful views of Casco Bay all the way around. There are also beaches, a forest area, an old concrete pier and a village of ferry houses. Dogs are welcome.

10. Old Orchard Beach
OOB is just 25 minutes from Portland and makes the list for it's seven miles of pristine sandy beach, pier and colorful town. Old Orchard Beach is at it's best in the early morning at sunrise before everyone is up. The pier (around and under it) offers a wonderful backdrop for couples photography and the close by town and amusement park offers loads of variety with games, rides, and interesting storefronts. That said, there is a grittiness to the town as tourists fill the beach and bustle around the souvenir shops, tattoo parlors and pizza joints. OOB isn't for everyone but it does offer loads of variety and an amazing beach and pier.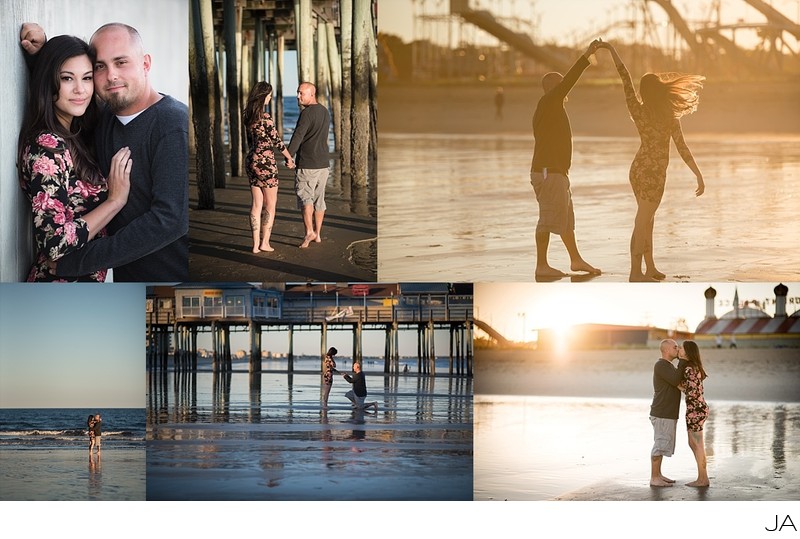 More Great Locations
---
Presumpscot River Preserve
Located in Portland and a bit hard to find, this river trail is pretty cool and finishes at a roaring waterfall.
Laudholm Farm Preserve, Wells
Wells Reserve is a historic park with walking trails, a historic barn, fields and a beach close by. The location is about 40 minutes from Portland and may require a fee for admission.
Nubble Lighthouse, York
Located just off Sohier Park on the rocky coast of York is this perfect New England style lighthouse. In the winter it's decorated with lights making this location a must see. The quant yet bustling town of York is just down the street expanding on the locations for your engagement session.
Joshua Atticks | Maine Wedding Photography