Planning your Wedding Day
Creating your wedding timeline
Getting ready for one of the biggest days of your life requires some day planning so when the day arrives you can sit back and enjoy it to the fullest. Most weddings are single day events with a finite amount of time to pack in all the important details of the day. This is where a well thought out timeline will be invaluable to help manage the hours you have in the best way possible to ensure that things run smoothly from start to finish. There are no rules for how your wedding day should flow so the plan is entirely up to you. That said, the one thing I've learned from photographing over a hundred weddings is that you should expect some deviation to your plans. Try to plan for the unplanned and create some buffer time within the timeline of your day. The following are a few things to keep in mind when you are planning your wedding day. They are the basics and the details of the day will fall into place later as your day becomes a reality.
Time of year and sunset
Maine is the perfect place of outdoor ceremonies so daylight is important. In the summer sunset is typically around 9 pm while in the autumn and winter seasons you can expect sunset to be at 4:30 or 5 pm. Keep in mind that the best lighting for photography is at golden hour (the hour before sunset) and the worst time is at high noon when the sun is directly overhead. Planning your ceremony time, reception, and portrait sessions around this will help utilize this great light.
Wedding party size
Big weddings are loads of fun but require a bit more time and coordination getting everyone together and looking their best. If you are having a larger wedding party, be sure to plan a little extra time for bridal and groom prep. Hair and make-up can run late, zippers can be stubborn, transportation issues, forgotten attire etc. are all petty common on a typical wedding day. No worries, it always works out just fine.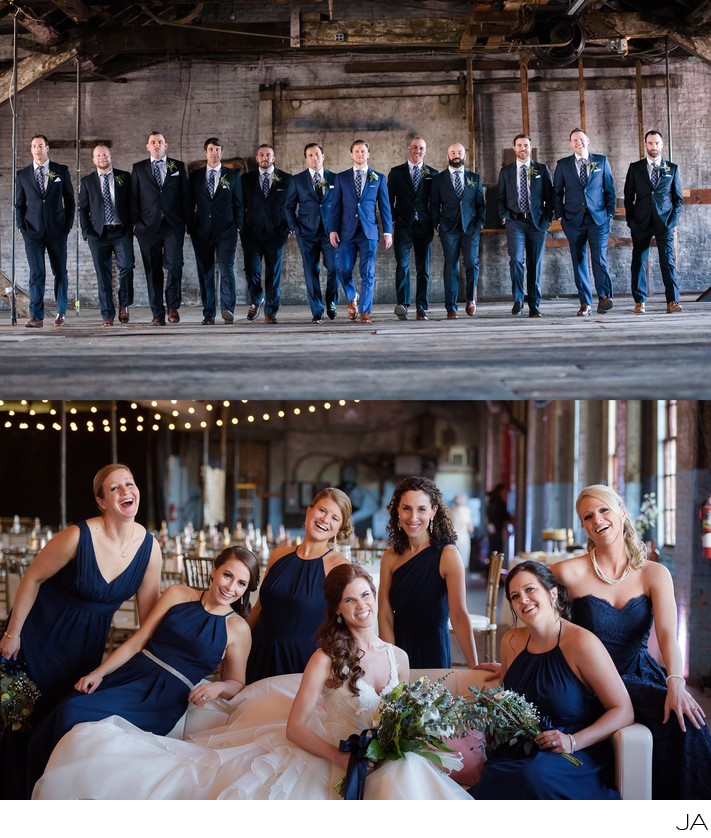 Starting early and building in buffer time into your schedule will help offset any delays. It's also really nice to have some time to relax and enjoy the moment without feeling the need to rush.
First Look or Traditional
A first look is when the bride and groom meet briefly before the wedding ceremony. It can be private moment between just the couple or witnessed by your family and wedding party. Incorporating a first look into the wedding plan has become very popular because it creates another detail of your wedding day and allows much of the formal portrait photography to happen prior to the ceremony. Getting these photos done early means there will be more time to enjoy your cocktail hour and reception after your ceremony. If you prefer the first look to be during the ceremony then plan for your family photos either after the ceremony or another time during your day.

Travel
Travel between getting ready locations, the ceremony site and the venue takes time so be sure to account for this when making your schedule. For full day weddings I typically start with groom prep early in the day and then move on to the bridal prep location after. I recommend setting aside an hour for groom prep and 2 hours for bridal prep. Be sure to account for entering and exiting transportation, parking and possible traffic disruptions.
Venue and Catering Constraints
Ask your venue about the rules for your stay such as arrival times and finishing times and if there are any restrictions to locations that can be used for photography. Knowing this will help and prevent any delays with your florist, DJ and decor planners that may need to arrive early to set up.
What's important to you
As you prepare for your day think about what images mean the most to you. Do you want loads of candid shots of your guests enjoying themselves, formal portraits of your family and extended family, or multiple location portraits of you and your husband/wife? When your creating your schedule I can provide assistance into how much time is allocated to each part of your day so you get the images you want.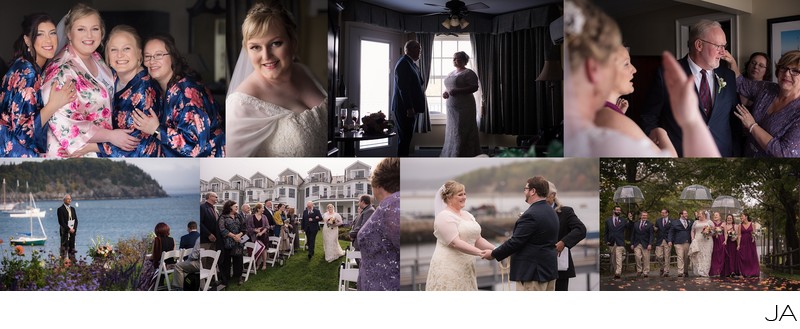 Sample Wedding Timeline
The following is an example of a timeline I created for a wedding at the Samoset Hotel.
12:30 – Photographer arrives to Samoset Resort – Will start with venue shots and then meet you at your getting ready room. There I will photograph your dress, shoes and any other items you will be wearing. Please have your shoes out and dress unwrapped and hanging on an elegant hanger. Then photojournalistic getting ready type shots of the bridal party (makeup application, in your robes, etc.) Will you be opening any gifts from one another or any gifts being exchanged with your bridesmaids? If so, it would be great to capture these moments.

1:00 – Groom Shots – Meeting the groom and the guys at the pool for some informal shots. Ceremony site shots.

1:45 – Hair and make-up should be just about completed. Be sure that you are not the last to have your hair and makeup done. Ideally be either the first or second, this way if things are running late there is still time for pictures and the make-up/hair stylist isn't feeling stressed and rushing. When everyone has finished with hair and make-up I'll get some fun shots of you in your getting ready attire (robes or the like). Photojournalist type shots.

2:30 - Bridesmaids and moms get into their dresses.

2:45 – The bride gets into her dress surrounded by her bridesmaids helping. Finishing touches, putting earrings in/necklace/veil (if applicable). Did you want to do a reveal with your father? Portraits with your mom and dad, portrait with you dad, portrait with your mom, portrait with your entire family, portraits with your MOH, portraits with each bridesmaid solo the then everyone together.

4:00 - Photo of the groom and groomsmen walking to the ceremony site. Quick portrait of the groom, portrait of groom and best man. Photo-journalistic shots of guests arriving.

4:30 – Ceremony

4:45 – Family Formals – This is often a chaotic time in the day and assembling those to be in the photos can be a challenge. Please be sure those who will be in the photos know to stay after your ceremony. Here are the groupings I will do.

Bride/Groom and both families
Bride/Groom with brides family
Bride/Groom with grooms family
Bride with siblings
Groom with siblings
Groom and mom, Groom and dad, Groom with mom and dad.
Grandparents with bride and groom.
Photographs of the Wedding Party

5:30 – Bride and groom location photos (this will be quick) We'll get other shots at sunset.

5:45 – Catch the tail end of cocktail hour into the reception.

6:00 - Reception starts

6:20 – Wedding party get announced into the reception followed by the first dance. Welcome speech by father of the bride.

6:30 - Dinner, MOH speech at 6:45, BM speech 7:20, second speech

7:30 – Father/Daughter and Mother/Son dances

7:45 - Cake cutting

8:00 – Party starts

8:15 – Sunset photo session with bride and groom (20 min)

10:00 - Firework/sparkler send off.
I hope this helps!!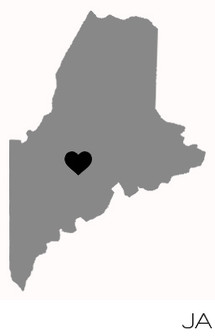 Joshua Atticks | Maine Wedding Photography